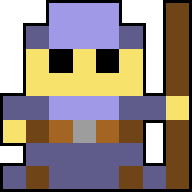 The Wizard deals tons of damage from a long distance and blasts enemies with powerful spells. All new players start with this class.
He does tons of damage, but is very squishy.
At level 5 the Priest is unlocked, and at level 20 the Assassin (with level 20 Rogue) and Necromancer (with level 20 Priest) are unlocked.
Skins: Merlin, Elder Wizard, Gentleman, Slime Wizard, Witch, Mischievous Imp
Unavailable Skin: Santa Claus
Weapon: Staff
Armor: Robe
Ability item: Spells
Starting Equipment: Energy Staff, Fire Spray Spell
Unlocked: Initially unlocked
Initial
Per Level
Level 20
Cap
Min
Max
Min
Avg
Max
HP
100
20
30
480
575
670
670
MP
100
5
15
195
290
385
385
Attack
12
1
2
31
40
50
75
Defense
0
0
0
0
0
0
25
Dexterity
15
1
2
34
43
53
75
Speed
10
0
2
10
29
48
50
Vitality
12
0
1
12
21
31
40
Wisdom
12
0
2
12
31
50
60