Ad blocker interference detected!
Wikia is a free-to-use site that makes money from advertising. We have a modified experience for viewers using ad blockers

Wikia is not accessible if you've made further modifications. Remove the custom ad blocker rule(s) and the page will load as expected.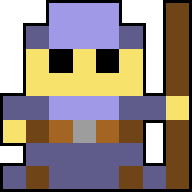 The Wizard deals tons of damage from a long distance and blasts enemies with powerful spells. All new players start with this class.
He does tons of damage, but is very squishy.
The wizard as an increased drop chance which makes him good for farming.
At level 5 the Priest is unlocked, and at level 20 the Assassin (with level 20 Rogue) and Necromancer (with level 20 Priest) are unlocked.
Skins: Merlin, Elder Wizard, Gentleman, Slime Wizard, Witch, Mischievous Imp
Unavailable Skin: Santa Claus
Weapon: Staff
Armor: Robe
Ability item: Spells
Starting Equipment: Energy Staff, Fire Spray Spell
Unlocked: Initially unlocked
Initial
Per Level
Level 20
Cap
Min
Max
Min
Avg
Max
HP
100
20
30
480
575
670
670
MP
100
5
15
195
290
385
385
Attack
12
1
2
31
40
50
75
Defense
0
0
0
0
0
0
25
Dexterity
15
1
2
34
43
53
75
Speed
10
0
2
10
29
48
50
Vitality
12
0
1
12
21
31
40
Wisdom
12
0
2
12
31
50
60