Realm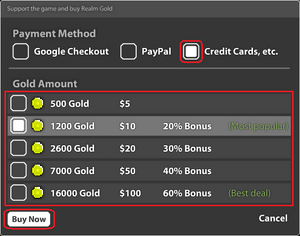 Gold is the cash player can use in Nexus. Same as fame, players can buy Realm Gold in Nexus, through Paypal, Google Checkout or Credit Cards. Realm gold isn't required to complete the game.
Prices
500 Realm Gold for $5.00
1200 Realm Gold for $10.00
2600 Realm Gold for $20.00
7000

Realm Gold for $50.00

16000

Realm Gold for $100.00
What Can Be Bought
Potions
Extra Chests in the Vault
Classes
Skins
Equipment shown at Nexus
Character Slots
Ad blocker interference detected!
Wikia is a free-to-use site that makes money from advertising. We have a modified experience for viewers using ad blockers

Wikia is not accessible if you've made further modifications. Remove the custom ad blocker rule(s) and the page will load as expected.