Pollen powder is a item that will restore everyone's Mana 100 points (+100)  within a certain range.
They are better than Magic Potions because they can restore more than one person's Mana (Note: Pollen Powder takes up 1 space in your inventory unlike mana potions.)
It's Description is: A pouch of ground pollen from the flowers indigenous to the Forbidden Jungle.
It is Dropped in the Forbidden Jungle by the boss, Mixcoatl the Masked God, and various other enemies within the jungle.
Most useful in a hard area (like oryx's castle, chamber, and wine cellar), and when there is a lot of people to restore mp.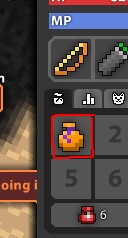 Ad blocker interference detected!
Wikia is a free-to-use site that makes money from advertising. We have a modified experience for viewers using ad blockers

Wikia is not accessible if you've made further modifications. Remove the custom ad blocker rule(s) and the page will load as expected.